REVIVOGEN PRO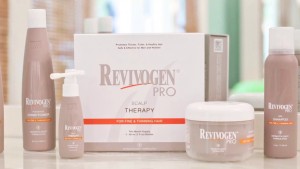 REVIVOGEN PRO
Natural Solution for Fine and Thinning Hair
From the Dermatologist Office to the Salon
Revivogen PRO represents the first medically-formulated natural solution for thinning hair from the dermatologist office to the salon. Formulated by renowned dermatologist Alex Khadavi, MD, Revivogen products have been successfully used to treat thinning hair in dermatology offices, hair transplant clinics, and pharmacies in the US and 40 countries worldwide. Revivogen PRO brings this clinically successful product to the Salon Professionals and Clients seeking a medically-based, natural and effective solution for fine and thinning hair.
Revivogen PRO collection is comprised of six innovative products that:
› Address the root cause of thinning hair safely and effectively using natural ingredients.
› Gently cleanse and exfoliate the scalp for an optimal hair growth environment.
› Add body, shine and density to fine and thin hair for healthy and luxurious hair.
Look and feel younger as Revivogen PRO transforms thin and lifeless hair into thicker, fuller and youthful hair.Revivogen PRO is Anti-aging for the Hair!
› HOW LONG DOES IT TAKE TO NOTICE EFFECTS?
See significant results'? Results are seen immediately after 1 use. The hair appears thicker, fuller and healthier. After 2 months the hair feels thicker, after 6 months there is visible improvement, and after 1 year maximum results are achieved.
› SIDE EFFECTS?
No systemic side effects!
› HOW DOES IT WORK?
Revivogen PRO uses natural ingredients that have been clinically proven effective in their abilities to block the hormones that cause thining hair and naturally stimulate the hair to growth thicker again.
› PRIMARY EFFECTIVE INGREDIENTS?
Natural Fatty Acids; Alpha Linolenic Acid, Gamma Linoleic Acid, Saw Palmetto Extract, Caffeine
› SCENT?
Fresh & Clean
›WHERE IS IT SOLD
At this time Revivogen PRO is exclusively available In all ULTA Beauty stores.
›CLINICAL TRIALS?
Independent In-Vitro Clinical Studies, Panel Studies, Independent Panel Studies.
Clinically proven 88% effective without systemic side effects.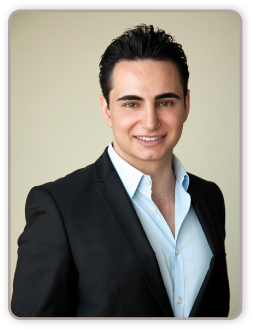 DR. KHADAVI, MD
BOARD CERTIFIED DERMATOLOGIST | CREATOR OF REVIVOGEN
I became concerned about my own hair loss when I began balding at the age of 20. At that point, the only product available for treating hair loss in men and women was Rogaine, and both the product itself and the results left a lot to be desired. I had my own moment of enlightenment upon learning that dihydrotestorsterone, or DHT, was the key hormone responsible for the chain of events that leads to hair loss in men and women. That's when I started experimenting with pharmaceutical and natural DHT blockers, which eventually led to the development of Revivogen.